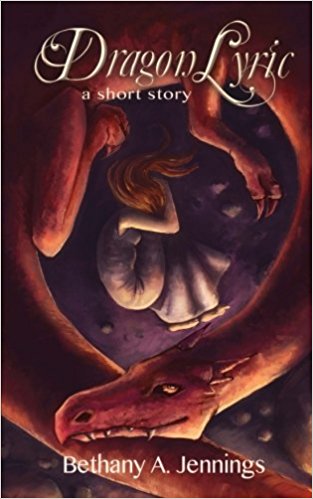 Her husband is a dragon. And the dragon is hungry.
About the Book
I grabbed Dragon Lyric at the Realm Makers 2017 bookstore and read it on the flight home. I knew Bethany Jennings through the interwebs, and figured she was a good writer, but wow.
This short story enraptured me from the very beginning to the last drop of ink. Bethany Jennings has mastered the flow and emotional melody of her craft. I was terrified, sickened, and in love with the characters like a puppet on a master's strings.
Theryn unknowingly married a dragonshifter. As soon as new life stirs in her womb, Roth reveals his true form… and she becomes his prisoner.
Positives
Intricate world-building and a unique magic system, surprisingly in-depth for such a small read (but not overwhelming with details)

Perfect pacing–it was never too fast or too slow. The perfect length for the story told.

Great characters–sympathetic and realistic

Excellent, beautiful writing style
Negatives
Umm… there's no sequel? Actually, I don't think it needs one. Sorry to be

that

reviewer, but I honestly can't think of anything I didn't like.
If you need a brief escape into a fantasy world for your dragon fix, pick up this book. You won't be disappointed.
Adult content
Offensive language: None.
Sexual content: No explicit content. Mentions of passionate kisses between a husband and wife (off-scene). Birth scene is void of graphic details but is intense.
Violence: Mild.
Recommended for all audiences 14+ due to the intensity of a survival situation and a birth scene.