Classic, addicting fantasy where magic bonds animals to reluctant heroes born under the blood moon.
About the Book
Classic, addicting fantasy where magic bonds animals to reluctant heroes born under the blood moon.
S.D. Grimm is a dear friend of mine, so I was nervous that when I read her debut novel, Scarlet Moon, it might not be my cup of tea. Not so, dear reader. It was a steaming cup of homebrewed, double-spiced chai with dark chocolate on the side.
If you love swords, wolves, magic, and a hefty dose of awesome characters, well, snuggle up to the fireplace, my friend. This cozy read will hit everything you love about the fantasy genre, while still being a unique and page-turning adventure.
Stay tuned below for a cover reveal for the third book in the trilogy, Black Blood! 
Destiny can pick someone else.

Evil is slipping through the cracks of its prison, and all Soleden trembles in its wake. Yet some would harness that evil to their own ends, and first among them is Idla, the sorceress queen bent on distorting the world.

Only one can stand in her way: Jayden. Upon realizing her mark as the prophesied Deliverer, Jayden conceals herself from her enemies and her Feravolk countrymen. But after the harm the Feravolk caused to her family, she's loath to rescue the not-so-innocent.

Hiding her mark was never easy, but now that Jayden knows both Queen Idla and the Feravolk are after her, hiding her gift of the Blood Moon will be impossible.
Positives
Legitimately the most difficult decision between book boyfriends I've ever faced. Ryan and Ethan are both swoon-worthy heroes trying to protect the main character, Jayden—and they both have a claim on her heart. But this is far from your run-of-the-mill, eye-rolling groan fest of a love triangle. There's nothing immature or unrealistic about it.

With different personalities, backgrounds, skills, and magic abilities, I still don't know which one of them I want to end up with Jayden. And I'm super picky, y'all. Normally I pick a team from page one. How does S.D. do it?

A unique magic system where children born under the blood moon have unique magic powers (and they're legit).

Squeaky clean. Yes, there's action and a side of delicious romance, but nary a curse word or inappropriate scene to be found.

The feels. I just… can't… even. Spoilers prevent me from saying anything, but trust me—the feels.

Talking wolves. Yes, please.

Great descriptions of the settings and fights sucked me in without registering on my snooze meter.
Negatives
Classic tropes and cliches, including chosen reluctant heroes, ancient prophecies, and orphans, but hey, it gives the story a cozy feel in my opinion. There's plenty of unique aspects of the story to turn any cliche on its head, so I thoroughly enjoyed the book regardless. I mean, is it even possible to write a story without any tropes nowadays?

Main character syndrome. The main character, Jayden, does some stupid things that had me white-knuckling the book and trying to yell at her through the pages. But honestly, if characters never made any headstrong decisions and sat on the couch with a bag of Doritos all day, it wouldn't make for good stories, hmm?

I get the strong feeling that Jayden will learn from her mistakes and mature as a character throughout the series. Which is exactly what I love, so I'm totally willing to make the investment for an enrapturing end. Besides, I have no room to talk with a teenage boy like Darien being the main character of Sentinel. Ahem.
Adult content
Offensive language: None.
Sexual content: Nothing beyond attraction and desire between an engaged couple, and a budding romance.
Violence: Strong. Characters are injured and killed, and one injury is particularly nasty. But it's pretty much what you'd expect from an adventure novel where the main character is wielding daggers on the cover. If you've read The Lord of the Rings, you probably won't blink.
Highly recommended for fans of fantasy, especially the classics like The Wheel of Time and The Lord of the Rings. Recommended for ages 14+. While the characters are older teens/young adults, any adult fan of the genre would love it.
Cover reveal for the final book in the trilogy, Black Blood!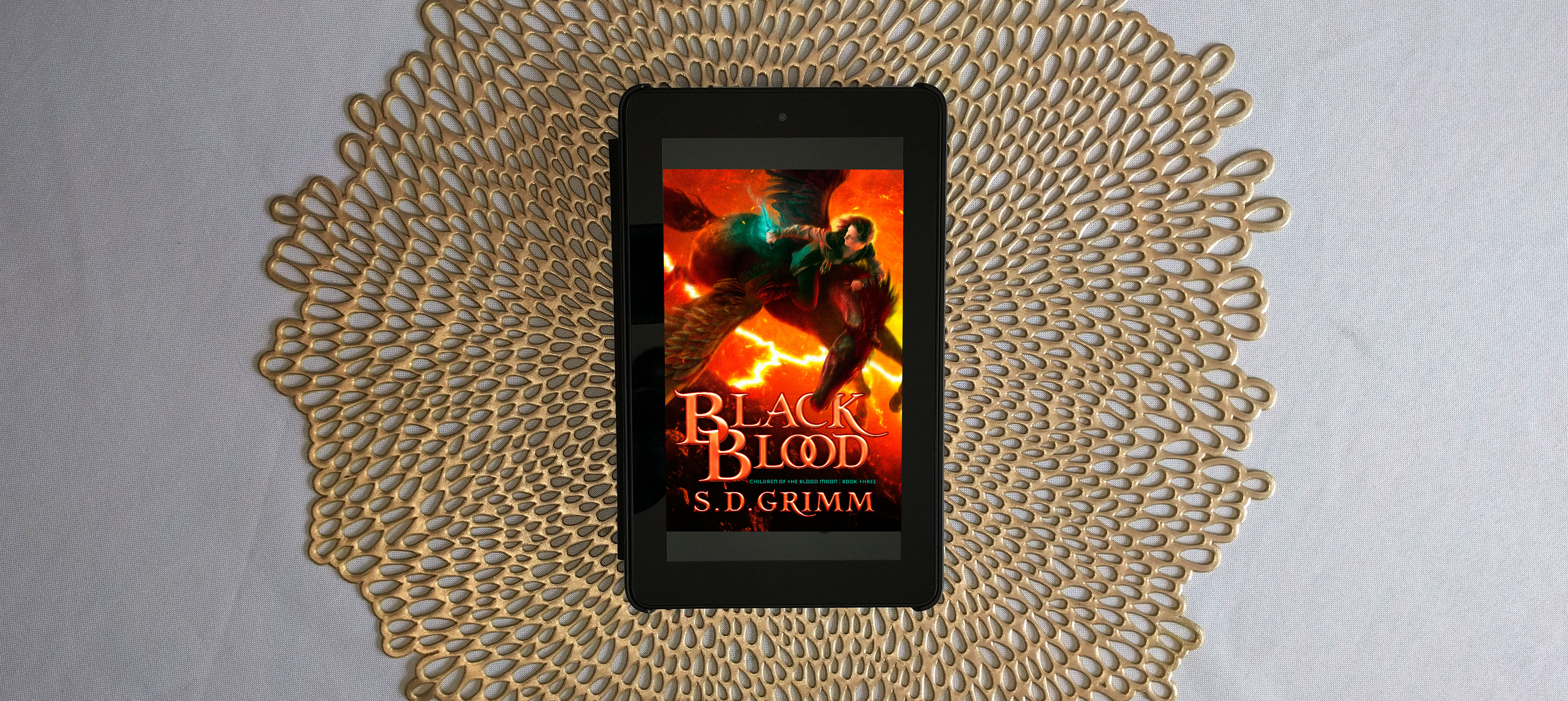 I can't stop staring at it. Oh my gosh! Can I have a black pegasus for Christmas?
Destiny made a mistake. 

Everyone told Jayden she was the prophesied Deliverer sent to rescue Soleden. But when the time came to defeat her nemesis, she failed. Now the Mistress's power spreads through the land, strangling all of creation to make way for a world she's creating herself. 

With every moment, the Mistress gains more strength, and Jayden realizes she was never meant to defeat her alone. She's one of four Deliverers, after all. But if they are caught, the Mistress will use them to gain the Creator's power. And one of the Deliverers has gone missing and might already be in the camp of the enemy. 

Can Jayden reunite the Deliverers before it's too late? Or will she fail the world another time?
Black Blood comes out January 29, 2019. Pre-order your copy on Amazon here!