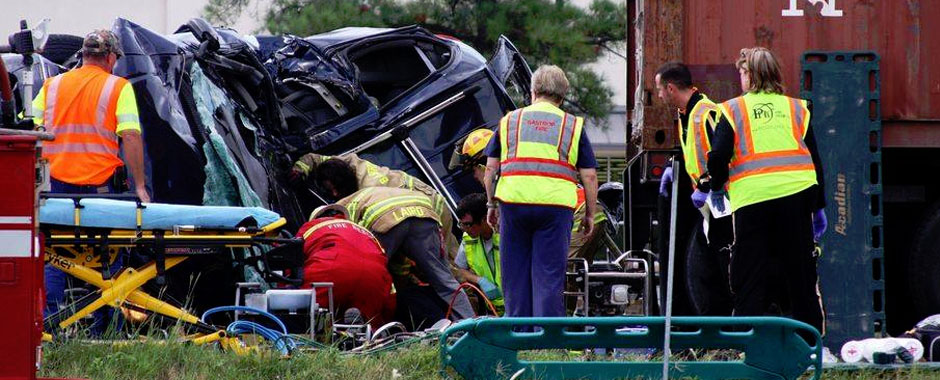 This is one of the cars hit
after
we were. The driver was cut out with the jaws of light and STAR Flighted, but she's okay!
Yeah, I should be dead, or seriously injured. But probably dead. And Arbiter should have been left incomplete at Chapter 18.
But instead my 4-month-old daughter Aniayah and I walked away from a 10-car pile up with only minor cuts and bruises after being hit by a speeding 18-wheeler.
On the morning of September 16, 2014, I was sitting at a red light on Highway 71 and Tahitian when the big rig smashed into the guy behind us without hitting the breaks—he was probably going at least 70mph, but the police haven't discerned exactly how fast or why he didn't slow down just yet.
The first car was tossed aside, and we were the second ones to be directly hit by the 18-wheeler, out of a total of 9. The only warning I had was the sound of the first impact and blur of motion in the rear-view mirror before our car's front and back caved in, and I thought that I was definitely going to at least have my legs crushed before I blacked out. The spare tire on the back of the car was pushed all the way up to Anaiyah's car seat and stopped about a foot away.
But the actual cabin was somehow completely intact.
I got Anaiyah out of the car as soon as I regained consciousness and saw that she was bleeding from the back of her head. A nurse and a physician's assistant came out of nowhere to examine her and pray with me before the police arrived. We didn't remove her from her car seat because we were concerned that she could have had a head or neck injury.
An ambulance took us to the hospital, where Anaiyah was given a CAT scan, which came out normal. Now she's acting like nothing happened, and she's as happy as a clam. Probably because all of the news stations that are reporting the crash injured an infant, so she's famous!
Here's what's crazy. The big rig continued its path to hit and severely damage 7 other cars in front of us. One SUV directly in front of us was flipped on its side when my car was thrust into it, and its cabin was crushed into another 18-wheeler in front of it. The woman in that car was cut out with the jaws of life and STAR Flighted to the hospital. Thankfully, she's in stable condition!
Think about that for a second: the energy from the 18-wheeler went through my car to cause that much damage to hers, and yet Anaiyah and I were almost completely unharmed.
On Sunday we memorized this verse in Bible Study Fellowship:
"Know therefore that the Lord your God is God; he is the faithful God, keeping his covenant of love to a thousand generations of those who love him and keep his commandments." – Deuteronomy 7:9
Thank you, Yahweh! Now to finish Arbiter…