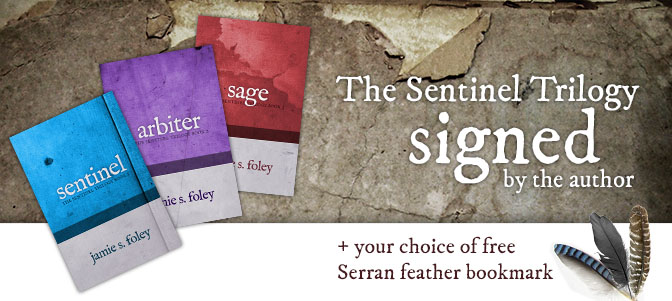 Enter to win an advance copy of Sage, plus copies of the first two books in The Sentinel Trilogy (Sentinel and Arbiter) as well—all signed by the author—plus a feather bookmark of your choice!
This YA fantasy series has been called "Harry Potter in a Left Behind story" (R.T. Young). The beta readers of the final book, Sage, called it "awesome," "really excellent," and "wonder-filled." Enter below for your chance to win!
Enter by leaving review(s) on:
Yes, you can use the same text for your review on each site. If you've already left reviews in the past, don't worry—you will get credit for them if you let me know you'd like to be entered by sending me an email or leaving a comment below!
If you have different usernames on each website and don't think I'll be able to tell that it's you, send me an email or leave a comment below to ensure that you'll get credit for your reviews.
The winner will be randomly selected from all total entries. They will be announced and sent their goodies on February 7th, 2016—a full week before Sage will be available for purchase!
Good luck!