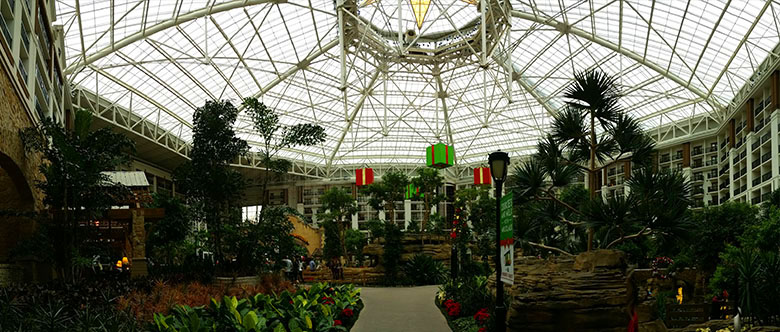 Gaylord Texan during Christmas 2015. Click here to enlarge.
My favorite hotel in the world is definitely the Gaylord Texan in Grapevine, Texas. Whenever I'm lucky enough to stay a night there, I spend the entire time on the balcony. From there you can hear the rushing of the creek as it winds around the atrium, smell the countless plants growing inside, and bask in the sunlight through the glass roof… or watch the rain dance along it.
The architecture was my inspiration for the Haevyn Serran Academy, which was built hundreds of years before the time of Sage. It was designed as a fort that could only be entered by beings that could fly, so it had no exterior exit—one could only enter from an opening in the glass roof. It was nestled high in the impassible mountains of Valinor, near the twin cities of Haevyn and Haeloh. Using the glass roof as a greenhouse to cultivate crops in a frigid environment, it served as a fortress that sustained and protected its people for centuries.
But the Academy no longer fulfills its original purpose in Sage. The flora in the middle have been ripped out to house a new priority, and the fort itself has been plucked from the earth and moved to a completely new location. Only a being of immense power could ever dream of such a feat…